Ahmad Haidar is a researcher in the Department of Aerospace Engineering at the Pennsylvania State University where he earned his doctorate. He is a Lord Corporation Fellow and president of the Penn State Chapter of the American Helicopter Society.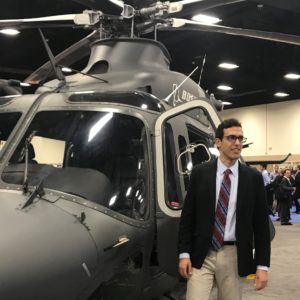 Research focus:
Structural Dynamics
Vibration Control
Rotordynamics
Finite Element Analysis
Modeling, Simulation, and Analysis
Model Test and Evaluation
Publications
Journal Papers
Haidar, A. M. and J. Palacios, "Parametric studies on modified configurations of ball-type passive balancers for improved transient and steadystate responses," Journal of Sound and Vibration, 432C (2018) 633-652.
Conference Papers
Haidar, A. M. and J. Palacios, "Effect of Number of Tracks and Balancing Masses on Passive Balancing Performance", 2018 AIAA/ASCE/AHS/ASC Structures, Structural Dynamics, and Materials Conference, AIAA SciTech Forum, (AIAA 2018-2214), Jan 2018.
Haidar, A. M. and J. Palacios, "Experimental Model Validation of a Passive Balancing Device for Supercritical Helicopter Driveshafts," American Helicopter Society Forum 72, May 2016.
Other Presentations
Haidar, A. M. (2018, April), "Real-time Vibration Control of Supercritical Shafts via Passive Bearing." Presented at the Center for Acoustics and Vibrations (CAV) Technology Transfer Workshop, Pennsylvania State University, University Park, Pa.
Theses
Haidar, A. M. (2018), "Vibration Control of Shafts via Automatic Passive Balancing," Ph.D. dissertation, The Pennsylvania State University. 
Haidar, A. M. (2015), "Comprehensive Model and Experimental Validation of Passive Vibration Suppression for Supercritical Rotary Machines," M.S. thesis, The Pennsylvania State University. 
Contact
Office: 207 Engineering Unit C
Vertical Lift Research Center of Excellence
Pennsylvania State University
Mail: 229 Hammond Building
University Park, Pa 16802

contact@ahmadhaidar.com