Ahmad Haidar is a graduate student in the aerospace engineering department at the Pennsylvania State University.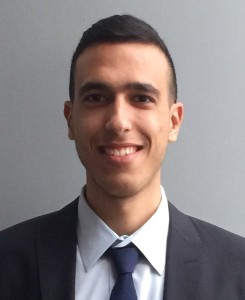 He graduated with a Master's degree in December 2015. Haidar is pursuing a doctorate of philosophy degree in aerospace engineering.
He is currently working on rotor blade vibration suppression via the use of passive autobalancing devices. Haidar's work impacts rotorcraft and jet engine stability and performance. Specifically, in cold climates, rotor systems are subject to asymmetric ice accretion and shedding which generates sudden and large amplitudes of vibration that can lead to system failure. A passive autobalancing device is shown to automatically negate induced vibrations at supercritical speeds.
Ahmad Haidar's research interests:

Structural Dynamics and Vibrations
Rotordynamics
Rotor Blade and Engine Icing
Finite Element Analysis
Time Domain Computer Simulation
Analysis of Time Varying Systems
Follow Ahmad on Instagram @ahmadhaidar1.